Hi and welcome to Blogmas day 23! Today I'm going to be sharing my favourite 3 Christmas bakes and their recipes as well as an image! Just in case you fancy making some sweet treats over the holiday season, whether it be for a loved one as a last minute gift or just for your Christmas table as a dessert after the delicious turkey!
ROCKY ROAD BITES
PREP TIME: 15 MINS
COOK: 5 MINS
EASY
SERVES 12
Ingredients
200g digestive biscuits (Rich Tea can also be used)
135g butter or margarine
200g dark chocolate
2-3 tbsp golden syrup
100g mini marshmallows (chopped regular marshmallows work too)
Icing sugar, to dust (Optional – up to 100g)
Raisins, dried cranberries or any dried fruit
Nuts
Popcorn
Honeycomb broken into pieces
Method
Grease and line an 18cm square brownie tin with baking paper.
Place 200g digestive biscuits in a freezer bag and bash with a rolling pin or just the side of your fist until they're broken into a mixture of everything between dust and 50p-sized lumps. Set aside.
In a large saucepan melt 135g butter or margarine, 200g dark chocolate and 2-3 tbsp golden syrup over a gentle heat stirring constantly until there are no or almost no more lumps of chocolate visible, then remove from the heat. Leave to cool.
Take the biscuits, 100g mini marshmallows and up to 100g of additional ingredients (dried fruit, nuts, popcorn, honeycomb), if you like, and stir into the chocolate mixture until everything is completely covered.
Tip the mixture into the lined baking tin, and spread it out to the corners. Chill for at least 2 hrs then dust with icing sugar and cut into 12 fingers.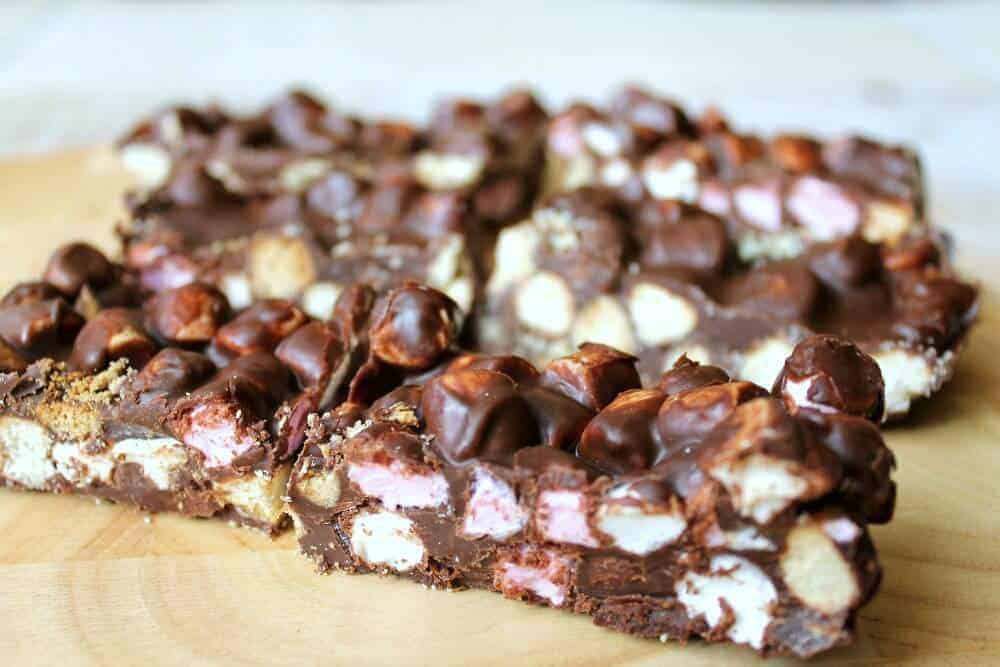 MINCE PIE BROWNIES
PREP TIME: 35 MINS
COOK: 30 MINS
EASY
MAKES 16
Ingredients
185g unsalted cubed butter
185g high-quality dark chocolate
85g plain flour
40g cocoa powder
3 large eggs
275g golden caster sugar
6 mince pies or 9-12 mini mince pies
Icing sugar, for dusting
Method
1.     Melt the butter and chocolate in a medium bowl, either in a microwave – cooking for 1 min on High, then stirring and continuing to heat in 20-second blasts – or by setting the bowl over a pan of simmering water and stirring occasionally. Once melted, leave the mixture to cool.
2.     Heat the oven to 180C/160C fan/gas 4. Line the base of a shallow 20cm square tin with non-stick baking parchment. Sieve the flour and cocoa into a medium bowl. Whisk the eggs and sugar with an electric mixer on maximum speed until thick and creamy, about 3-8 mins, or when the mixture runs off the beaters and leaves a trail for a second or two.
3.     Pour in the cooled chocolate mixture, then fold together with a rubber spatula in a figure of eight, moving the bowl round until the mixture is a mottled dark brown. Be gentle so you don't knock out the air.
4.     Sift in the cocoa and flour mixture and continue gently folding. The mixture will look dry and dusty, then fudgy. Stop just before you feel you should, as you don't want to overmix it.
5.     Spoon a little mixture into the prepared tin, then add the mince pies, leaving them whole. Scrape over the rest of the mixture, gently easing it between and over the pies. Level the top. Put in the oven for 25 mins. If the brownie mixture is very wobbly in the middle, it's not quite done, so bake for another 5 -10 mins, or until the top has a shiny, papery crust and the sides are just beginning to come away from the tin. Take out of the oven and leave to cool in the tin. Dust with icing sugar. Cut into quarters, then cut each quarter into four squares. Will keep in an airtight container for a week and in the freezer for up to a month.
GIANT JAM TART
PREP TIME: 20 MINS
COOK: 40 MINS
EASY
SERVES 6
Ingredients
500g pack sweet shortcrust pastry
1 tsp cinnamon or a grating of nutmeg (optional)
300g jam
icing sugar, for dusting
Method
Heat oven to 180C/160C fan/gas 4 and put a baking tray in the oven to heat up. On a lightly floured surface, roll out two-thirds of the pastry to a circle about 0.5cm thick. If you're adding a spiced flavour to your pastry, sprinkle with the cinnamon or nutmeg, fold in half and repeat, then roll it out again to a circle about 0.5cm thick.
Press the pastry into a 23cm metal pie tin or tart tin and trim off any excess pastry hanging over the edge. If you're using a deep tin, roll the edges down a little to make a lip (you only want to make a shallow tart). Spread the jam over the pastry base.
On a lightly floured surface, roll out the remaining pastry to a thickness of 0.5cm and use small cookie cutters to stamp out shapes. Re-roll the trimmings and cut out more shapes if needed. Arrange the pastry decorations over the jam layer.
Put the tin on the hot baking tray and cook for 40 mins, then leave to cool for 15 mins. Dust the pastry toppings with icing sugar. Serve warm or cold with custard, cream or ice cream.
I hope you enjoyed today's post! See you tomorrow for Blogmas day 24! Have you visited any beautiful Christmassy places yet this year? Are you planning on visiting any? Let me know down below in the comments!
*disclaimer: no images are my own, all rights belong to the respective owners*
Have you tried any of these delicious sweet treats?! Any baking delights I've failed to include? Let me know in the comments below!
For more photography and sneak previews follow my Instagram and twitter:
Instagram
Twitter
Check out this blog post: Top 10 best places for a white Christmas
For more posts like this one coming soon follow my blog, likes and comments are always appreciated. As well as anyone looking to guest blog or anything like that private message me on Instagram or twitter or drop me a message in the comment section down below. I'm also in talks with start up brands in the USA currently, if anyone else would be interested let me know on one of my social medias or again in the comment section.
Hi everyone! I'm a travel blogger looking to start a series about other peoples travel experiences! You would need to send it to my email (Katiethetourist@hotmail.com) by no later than the 1st January 2019 for the first lot (however this series will be ongoing) it can be anywhere upwards of 500 words and must include own images within the post as well as your favourite 2 images relating to that trip sent separately via email so I can advertise your post and blog on social medias. It can be on any destination at all and I look forward to hearing from you with your fantastic pieces!
For everyone taking part in writing I will advertise your post and of course your own blogs/ social medias across all of my platforms and you can provide back links to your own blogs or social media in the actual post!
Are you a brand or company? Do you have an awesome product or service? Want to work with me? Email me Katiethetourist@hotmail.com
In the market for some new beautiful clothes for your travels?! I am a new brand ambassador for Poppy Apparel! You can use my discount code, Katiethetourist10 for 10% off all purchases! Here's the website: Poppy Apparel!
Have a nice day,
See you for tomorrow's post, follow so you don't miss it!
Katie