Hi and welcome to Blogmas day 17! Today I'm going to be sharing the top best places for couples to visit this Christmas in the beautiful city of London! Christmas is a romantic time of year and I thought I would share some Christmassy magical places you can visit to spend time with your loved one! I really hope this helps and gives you some ideas on places to visit and things to do! London is one of the most romantic cities in the world so even just taking a stroll down the street, especially at Christmastime, is incredibly romantic.
LONDON EYE OVER THE CHRISTMAS PERIOD
The famous champagne experience is definitely a must amongst all the romantic things to do in London for couples. The ticket for a single person for a champagne experience costs around £31.95 if booked online, which includes a fast track entry and a 30 minute experience looking out over the river Thames. It's such a special idea over the Christmas period, an incredibly memorable experience!
EAT AT A ROMANTIC RESTAURANT
Enjoy a candlelit dinner at Clos Maggiore, oft-hailed London's most romantic restaurant.
Taste upscale Indian cuisine in a former library at The Cinnamon Club.
Dine in the dark at Dans le Noir.
WINTER WONDERLAND, HYDE PARK
This free event is a lovely place for couples who enjoy all things winter! There is also a big wheel which is romantic and has great views over the park with all its twinkling lights and spectacular stools!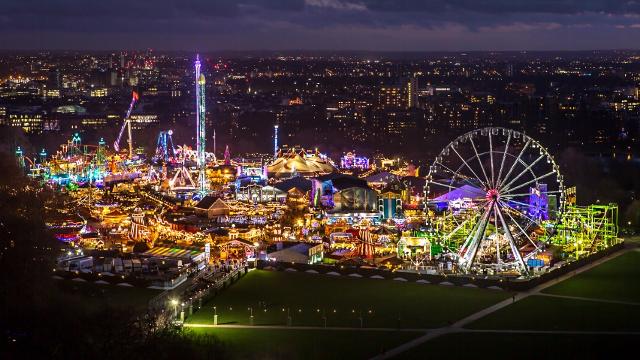 CHRISTMAS AT SKY GARDEN
This frozen paradise is the ultimate romantic date this Winter. Sip on champagne, creative cocktails and delicious bar snacks as you take in the quirky decor paired with stunning views.
I hope you enjoyed today's post! See you tomorrow for Blogmas day 18! Have you visited any beautiful Christmassy places yet this year? Are you planning on visiting any? Let me know down below in the comments!
*disclaimer: no images are my own, all rights belong to the respective owners*
Have you been to any of these places?! Any gems I've failed to include? Let me know in the comments below!
For more photography and sneak previews follow my Instagram and twitter:
Instagram
Twitter
Check out this blog post: Top 10 best places for a white Christmas
For more posts like this one coming soon follow my blog, likes and comments are always appreciated. As well as anyone looking to guest blog or anything like that private message me on Instagram or twitter or drop me a message in the comment section down below. I'm also in talks with start up brands in the USA currently, if anyone else would be interested let me know on one of my social medias or again in the comment section.
Hi everyone! I'm a travel blogger looking to start a series about other peoples travel experiences! You would need to send it to my email (Katiethetourist@hotmail.com) by no later than the 1st January 2019 for the first lot (however this series will be ongoing) it can be anywhere upwards of 500 words and must include own images within the post as well as your favourite 2 images relating to that trip sent separately via email so I can advertise your post and blog on social medias. It can be on any destination at all and I look forward to hearing from you with your fantastic pieces!
For everyone taking part in writing I will advertise your post and of course your own blogs/ social medias across all of my platforms and you can provide back links to your own blogs or social media in the actual post!
Are you a brand or company? Do you have an awesome product or service? Want to work with me? Email me Katiethetourist@hotmail.com
In the market for some new beautiful clothes for your travels?! I am a new brand ambassador for Poppy Apparel! You can use my discount code, Katiethetourist10 for 10% off all purchases! Here's the website: Poppy Apparel!
Have a nice day,
See you for tomorrow's post, follow so you don't miss it!
Katie