Hi and welcome to Blogmas day eleven! Today I'm going to be sharing my gift guide for travellers! Do you have a close family member or friend who loves to travel? Then this is the perfect list for you! I really hope this is useful! I know how difficult it can be to find the perfect gift for people, and with Christmas approaching quickly this is the perfect guide if you're shopping for budding travellers! Enjoy!
TRAVEL WALLET –
From Okapi.com! This is perfect for everyone with an active lifestyle and although this is a high price item it is great quality and an amazing design!
Beige Blesbok & Ostrich Shin
WORLD DESTINATIONS PERSONALISED PASSPORT HOLDER –
This incredible passport holder can be found along side a whole range of other beautiful gifts for travellers on notonthehighstreet.com!
It's £20 and made to order with a free delivery service to those in the UK.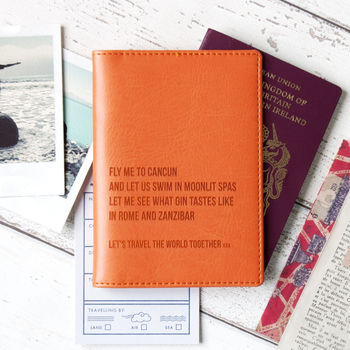 TRAVEL JOURNAL – 
Perfect for writing and documenting all of your travel adventures! These journals are perfect for looking back and remembering your happy times – these are great for those down days that everybody gets from time to time!
URBAN MAP GLASS – 
An incredible gift for those who like an evening drink and to be reminded of travels! It is unique and quirky, an incredible gift for all adult travellers!
£12.49
WOMAN'S DUFFEL BAG –
A perfect travel companion – a perfect fit for all of your stuff! It's also a great size for air travel and comfortable to wear. There are a variety of different colours and finishes so you can make the bag perfect for you.
SCRATCH MAP –
£20.30 – £31.22
I hope you enjoyed today's post! See you tomorrow for Blogmas day twelve! Have you visited any beautiful Christmassy places yet this year? Are you planning on visiting any? Let me know down below in the comments!
*disclaimer: no images are my own, all rights belong to the respective owners*
For more photography and sneak previews follow my Instagram and twitter:
Instagram
Twitter
Check out this blog post: Top 10 best places for a white Christmas
For more posts like this one coming soon follow my blog, likes and comments are always appreciated. As well as anyone looking to guest blog or anything like that private message me on Instagram or twitter or drop me a message in the comment section down below. I'm also in talks with start up brands in the USA currently, if anyone else would be interested let me know on one of my social medias or again in the comment section.
Hi everyone! I'm a travel blogger looking to start a series about other peoples travel experiences! You would need to send it to my email (Katiethetourist@hotmail.com) by no later than the 1st January 2019 for the first lot (however this series will be ongoing) it can be anywhere upwards of 500 words and must include own images within the post as well as your favourite 2 images relating to that trip sent separately via email so I can advertise your post and blog on social medias. It can be on any destination at all and I look forward to hearing from you with your fantastic pieces!
For everyone taking part in writing I will advertise your post and of course your own blogs/ social medias across all of my platforms and you can provide back links to your own blogs or social media in the actual post!
Are you a brand or company? Do you have an awesome product or service? Want to work with me? Email me Katiethetourist@hotmail.com
In the market for some new beautiful clothes for your travels?! I am a new brand ambassador for Poppy Apparel! You can use my discount code, Katiethetourist10 for 10% off all purchases! Here's the website: Poppy Apparel!
Have a nice day,
See you for tomorrow's post, follow so you don't miss it!
Katie