Hi and welcome to Blogmas day 8! Today I'm going to be sharing my top Christmas markets in the world! There are some beautiful Christmas Markets all around the world just begging for you to visit them and honestly all of these stunning places are on my bucket list! I'm so excited to share them with you and hopefully inspire you to visit somewhere new!
1, Nuremberg Christkindlmarkt – Germany
It's of the largest holiday markets in Germany, Nuremberg Christkindlmarkt is a must-visit holiday tradition for both the locals and visiting tourists. You'll find almost 200 stalls selling gingerbread, bratwurst, German mulled wine, gifts, and so much more.
2, Toronto Christmas Market – Canada
The Toronto Christmas Market is so popular that its organisers sell express pass tickets that allow visitors to skip the often-long lines just to get into the marketplace. There are dozens of food and drink stands, musical groups playing Christmas carols, and visits from Santa Claus.
3, Dresden Striezelmarkt – Germany
The oldest Christkindlmark in Germany has been running for almost 600 years. There are loads of things to buy, for example hundreds of crafts, artwork, gifts and treats. As well as being quaint and picture perfect!
4, Christkindlmarkt of Chicago – Illinois
The most famous Christkindlmarkt in the United States is a traditional German market with three locations around the city. Stall holders sell traditional crafts and trinkets from Germany, Austria, and local artisans, as well as glühwein, chocolates, hot cocoa, and giant German pretzels. There is plenty to see and do as well as lots of culture for all the family to enjoy.
5, Zagreb – Croatia
Zagreb takes place during the season of Advent and offers a variety of events that will keep the whole family entertained with loads of fun, excellent food, events, art, and also a genuine Christmas atmosphere. Santa also makes a special visit to the city during Advent which makes it the perfect place to take your children! As you can see from the picture it truly is stunning and well worth a visit!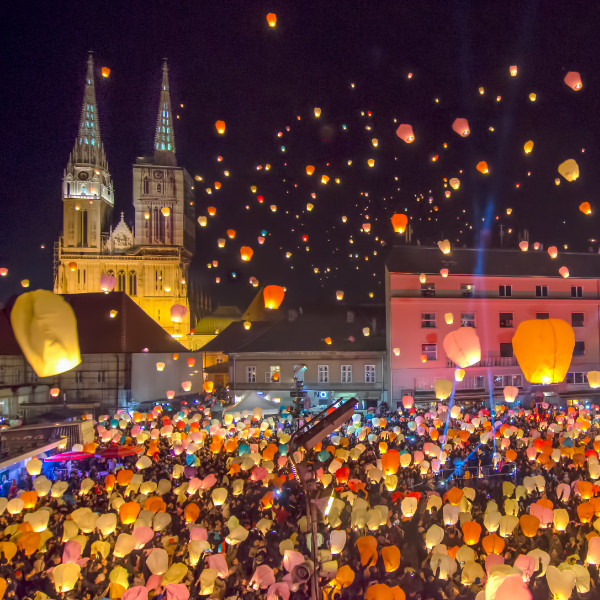 6, Strasbourg – France
Strasbourg is a must for all lovers of Christmas. The atmosphere is incredible with illuminations, Alsatian specialities, and also its beautiful hotels making it the perfect location to stay in. The traditions of Advent are key in Strasbourg. There will be 4 outstanding Advent concerts, a Living Nativity and a wide range of live music and cultural events. It's a cultural wonder!
7, Montbeliard – France
Montbeliard is one of the best Christmas markets in Europe and it isn't difficult to see why people love it! So it's well worth a visit, especially during the Christmas period. There are beautiful illuminations, the Christmas market, and loads of toys and gifts to buy!
8, Aachen – Germany
Aachen offers a traditional and gourmet Christmas market in a family atmosphere. Located in Germany, on the border of Belgium and the Netherlands, Aachen is easy to get to and a great destination for Christmas! Every year before Christmas the squares and streets round the Cathedral and the Aachen Town Hall are transformed into a festival of lights, colours, sounds and smells. There truly is someone here for everyone! There is also an amazing fair, perfect for the family!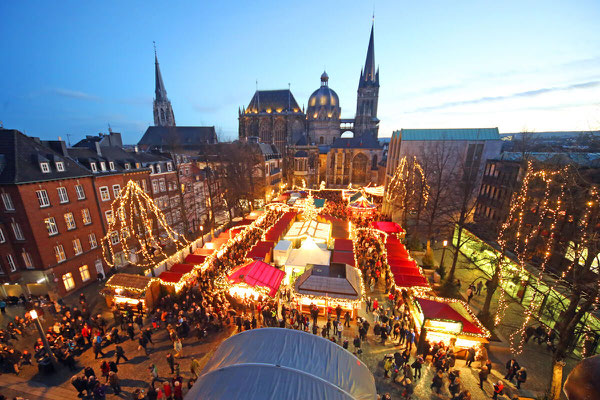 9, Basel – Switzerland
Basel is Switzerland's most beautiful and largest Christmas city, and is well worth a visit. There is a stunning Old Town covered in Christmas lights and roughly a hundred tall pine trees bordering the streets. I would really recommend the Christmas market is which is being held not only on Barfüsserplatz, but also on Münsterplatz – one of the most beautiful squares in Basel.
10, Brussels – Belgium
The most beautiful Christmas market in Belgium is also one of the best Christmas markets in Europe. Winter Fun has become one of the largest and most popular events in Europe and brings together hundreds of thousands of travellers each year. There is an ice-skating rink, a gorgeous Christmas tree, a magical and original light and sound show, a Christmas Parade, the traditional Ferris wheel, the merry-go-rounds.
I hope you enjoyed today's post! See you tomorrow for Blogmas day nine! Have you visited any beautiful Christmassy places yet this year? Are you planning on visiting any? Let me know down below in the comments!
*disclaimer: no images are my own, all rights belong to the respective owners*
Have you been to any of these places?! Any gems I've failed to include? Let me know in the comments below!
For more photography and sneak previews follow my Instagram and twitter:
Instagram
Twitter
Check out this blog post: Top 10 best places for a white Christmas
For more posts like this one coming soon follow my blog, likes and comments are always appreciated. As well as anyone looking to guest blog or anything like that private message me on Instagram or twitter or drop me a message in the comment section down below. I'm also in talks with start up brands in the USA currently, if anyone else would be interested let me know on one of my social medias or again in the comment section.
Hi everyone! I'm a travel blogger looking to start a series about other peoples travel experiences! You would need to send it to my email (Katiethetourist@hotmail.com) by no later than the 20th November for the first lot (however this series will be ongoing) it can be anywhere upwards of 500 words and must include own images within the post as well as your favourite 2 images relating to that trip sent separately via email so I can advertise your post and blog on social medias. It can be on any destination at all and I look forward to hearing from you with your fantastic pieces!
For everyone taking part in writing I will advertise your post and of course your own blogs/ social medias across all of my platforms and you can provide back links to your own blogs or social media in the actual post!
Are you a brand or company? Do you have an awesome product or service? Want to work with me? Email me Katiethetourist@hotmail.com
In the market for some new beautiful clothes for your travels?! I am a new brand ambassador for Poppy Apparel! You can use my discount code, Katiethetourist10 for 10% off all purchases! Here's the website: Poppy Apparel!
Have a nice day,
See you for tomorrow's post, follow so you don't miss it!
Katie